Difference Between Calling a Plumber vs. Water Damage Restoration Services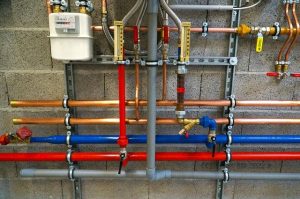 All homeowners know that water emergencies can strike in homes anytime. Whether it's a roof leak, pipe burst or flood, your property will likely suffer water damage. This is why water damage restoration has recently surfaced as the single most important restoration service for home as well as commercial properties.
Now, the problem arises when a water emergency occurs in a home, and homeowners get confused about who to call. Should they call a plumber of water restoration services? The thing is, people often get confused between water damage restoration and plumbing services.
For your convenience, this guide will help you understand the difference between calling a plumber vs. water damage restoration services.
Plumbing Services
A plumber is meant to fix the source of water damage, but that too, if it falls within their area of expertise. You might call a plumber when you have a plumbing issue at home. The plumber will then spot and fix the issue, but a plumber will not know how to clean up or repair the actually water damage. Plumbers will simply stop the problem from occurring again. They will not be responsible for restoring the property to its pre water damage issue.
Here are some of the services that plumbers offer:
Leak Repair
The most common expertise of plumbers is leak and pipe repair. Most homes will inevitably suffer from broken pipes or pipe leaks so in such an event, you will call a plumber. Whether it's just one pipe or the whole plumbing system, plumbers will have the right equipment and expertise to deal with it.
Toilet Repair
There are many times that homeowners will notice issues in their toilets. This may be clogging, overflowing or issues with flushing. If you experience any such issues, then you will call a plumber.
Drain Cleaning
Clogged drains can cause a lot of issues like odors and standing water in the home. If you need drain cleaning services that are obstructing the flow of water, you can avail plumbing services. However, once again, a plumber will not be responsible for the damage that clogged drains have already caused.
Water Damage Restoration Services
Water damage restoration is very different from plumbing services. While they both deal with water issues, plumbers just fix the problem at the core, while water damage restoration also saves your property from the water damage that has already been done. Water damage restoration services will save your home from water damage, be it a result of plumbing issues like pipe bursts or leaks, roof leaks or weather damage like flooding, heavy rainfall or snow.
Therefore, while you may not need to call a plumber every time you experience a water issue, you might need to call a water damage restoration company to take care of the repair and damage. Water damage restoration services are all-encompassing. They will not only take care of the water damage, but they will also handle the problems that surface as a result of it, like mold damage and remediation and odor removal.
Here is a list of water damage restoration services that a home restoration company might offer:
Water Problem Detection
The first thing a water damage restoration company will do is detect the source of the water damage, whether it's a leaking pipe or something else. They will first stop the problem at the core and then move on to restoration.
Water Extraction
The first step after you know the source of the water leak is water extraction. A home restoration company will then help you get rid of the standing water as soon as possible, since lingering moisture can lead to mold growth as well. This will also help prevent further water damage.
Water Drying and Dehumidification
A home restoration company will ensure that your property is completely dry. Home restoration companies have the right equipment to dry and dehumidify your home so that there is no lingering moisture like huge fans and dryers. If the property is not dried and dehumidified, it will become the breeding ground for mold growth. Mold will eat away at organic material and cause further damage to your home.
Sanitization
If your home suffered flood damage or a sewage pipe burst, then there's a very high chance that your home may be contaminated. In such an event, you will not only need to clean up the water damage but also disinfect your property. Fortunately, water damage restoration services also include sanitization services. This will ensure that your home is safe to live in.
Water Damage Restoration Services
If you have suffered any form of water damage, you will benefit from the services of a home restoration company as compared to calling a plumber. If you live in Tahoe, you should get in touch with 911 Restoration of Tahoe. With just a 45 minute, quick response time, you will get all-in-one services that will restore your property to its pre-damage condition, something that plumbing services won't offer you.