Did Wildfires Reach Tahoe? Getting The Smell of Wildfires Out of Your Home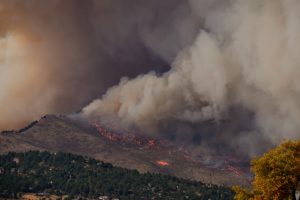 Wildfires are usually caused by dry conditions and other factors, such as the recent Caldor Fire that broke near Lake Tahoe. Such fires can impact your life indoors as well as outdoors.
Whether the wildfire was miles away or close to where you live, smoke from the fire can penetrate your home and destroy your belongings and pollute the air as well. Here are some ideas for removing wildfire smoke from your home.
Smoke removal is not an easy process always and can remain hidden for long periods. Professional restoration companies, like 911 Restoration, can quickly spot smoke damage in homes and use the latest equipment and techniques to clean up and make your property livable again.
Damage from Smoke
Smoke damage from wildfires is hazardous to health and your home. Smoke consists of microscopic particles that can penetrate anywhere and be invisible to the naked eye. Even though there hasn't been a wildfire close to your home, a wildfire even miles away can reduce the air quality in your area.
That is why to maintain healthy living conditions for everyone in your family; it is essential to remove wildfire smoke and its odor from your home.
Why Are Smoke Particles Dangerous for Health?
As discussed earlier, smoke contains microscopic particles of ash and soot that can trigger various health issues. The particles can irritate your throat, eyes, nose, and lungs majorly, resulting in allergic reactions that can get severe over time as well.
Health risks increase for those already suffering from lung and heart diseases or low immunity in general.
Removing Smoke Odor from Home
Before you reach out to professionals to assist you, here are some methods and tools which can be helpful to remove the smoky odor of wildfire smoke from your home:
Setting Out Baking Soda
Place containers filled with baking soda around your home, for example, in the microwave, in refrigerators, and in areas where you can smell smoke. Baking soda helps remove smoke odor from your home as it is a natural odor absorber. You can even sprinkle some on your furniture and floor, too, and then wipe it off.
Using Activated Charcoal
Activated charcoal is a detoxifying agent and also a natural odor absorbent similar to baking soda. You can remove the smoky smell from your home by placing bowls full of activated charcoal in powdery form.
Deodorizing and Cleaning with Vinegar
If your floors, walls, and furniture smell of smoke, you can use white vinegar to cut down the odor naturally. Create a mild vinegar solution and wipe your home contents with it, or you could even place bowls of vinegar all over your rooms to remove the smell of smoke.
Ozone Generators
Ozone generators do an excellent job of cleaning the odor of smoke damage from wildfire. They are readily available in the market and help in reducing the smoke from your home. However, they can be risky to use as ozone generators may produce high levels of ozone that can damage your lungs.
Keeping Smoke Out of your Home
Smoke damage from wildfires can make breathing air dangerous. It can harm your home's indoor air quality, so take precautions to keep the smoke out! The impact of smoke depends on the distance between the fire and the density of smoke in the air.
Here are some tips and methods that will help you to keep the air indoors clean and smoke-free;
You would first need to check for gaps in windows, doors, and homes that invite smoke particles. Window A/C units are usually where the smoke can get in through, so tape up the gaps between the top of your bottom window and the top window.
You also need to ensure that your chimney vent is closed! Smoke from wildfires can easily penetrate the house through chimneys. So when you first hear about a wildfire in the Tahoe area, check the chimney vents and shut it all up.
The most commonly missed gap is the mail slot on doors. Using duct tape, seal the gap to prevent smoke from invading your house and reducing the air quality.
Choose one door in your home to go in and out, and do so quickly. Lock all the other doors and instruct everyone to use that one door only for minimal entry of smoke. The best door to use is the basement door.
Once the wildfire is out and there is no emergency alert of poor air quality by the authorities in the area, only then can you open the windows to let the fresh and clean air come in and circulate in your home.
Invest in air purifiers for your home to maintain the high indoor air quality in such emergency cases. Using an air purifier with integrated activated carbon technology will help remove the smoke odor from the air indoors.
Call 911 Restoration
To prevent the disastrous effects of smoke damage in your home due to wildfires, call 911 Restoration. A reputable restoration company in Tahoe like ours will help you clean up smoke damage using advanced products, equipment, and techniques to remove all smoke and soot residue from the affected surfaces. Call us at (530) 290-3468 for emergencies!