Different Types of Space Heaters & Safety Precautions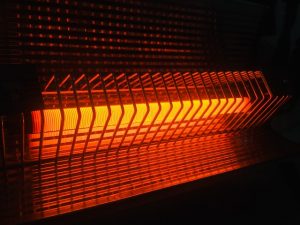 Are you looking for a space heater for your room this coming winter? There are many types of space heaters that might be for someone but not for you. To choose the best space heater for you, we have listed the most popular in the market. This article would talk about different types of space heaters, safety precautions to take, and what to do in case of emergencies.
1.   Ceramic Space Heaters
Ceramic Space Heaters are made using ceramic plates that are attached to metal coils. They run on electricity. The electricity passes through coils and heats the ceramic plates releasing heat into the surrounding air. This is how ceramic space heaters heat a room. An advantage of investing in ceramic space heaters is that the installed plates get instantly heated up and can immediately feel the healing effects. You don't have to wait hours for it to heat up. There are two types of ceramic heaters. One comes with a fan and one without. The fan is more efficient in heating surrounding air, making the room feel warmer quickly. Lasko CD09250 is a very popular ceramic space heater, take a look and see if you like it.
2.   Fan Space Heaters
They work like a ceramic space heater, but there are no ceramic plates installed. Fan space heaters, like Vornado MVH, run on electricity. Instead of ceramic plates, it works by heating a metal coil. The fan blows the heat into the surrounding air, warming the room. Fan space heaters are more affordable to buy than other types of heaters. If you don't want to go over your budget, this heater is the one for your room.
3.   Infrared Space Heater
Even though infrared space heaters are powered by electricity, they work entirely differently from fan and ceramic space heaters. An infrared space heater works in a completely different way than a ceramic heater or fan heater. It works by emitting electromagnetic waves into the air that heat physical objects present in the room. Like other heaters, it doesn't always use fans or air to spread heat but warms up furniture, carpets, and human bodies that are around it. Some may come with an inbuilt fan to speed up the healing process.
4.   Panel Space Heater
Panel space heaters are new to the market and are gaining popularity very quickly. It heats the room by letting hot air radiate off of the device. They use electric currents to produce heated air. It can be installed on the wall and also sit on the floor with the included stand. Panel space heaters might be becoming popular because of their modern design, but in reality, they do not heat as much as other space heaters. They are best used to take the chill out of a room and not heat the room entirely as you would want on cold winter nights. So if you live in a state where it gets pretty cold, invest in a ceramic space heater or fan space heater for your rooms.
Safety precautions to take when using space heaters – don't take these for granted!
Buying a space heater is easy, but with it comes a lot of care and precautions. Any electric heating device can be dangerous to use, so here is a list of precautions you would want to take when using space heaters to prevent fire damage and hazards.
Inspect heaters for frayed or broken wires and plugs. If you find it's worn out, do not use the heater. It can be dangerous.
Never leave space heaters unattended. Turn the heater off when leaving the room or going to bed.
Don't let children or pets play too close to the heater. It can burn them.
Install smoke alarms in all rooms in case there is a risk of fire because of the heater. Get it checked every month to see if it's working
Please make sure the heater you are buying is from an authentic company and has a label showing a recognized testing laboratory lists it
Place heaters where it is safe; don't keep it close to objects that can quickly burn, such as curtains, newspapers, etc.
Plug space heaters directly into the wall outlet. Please don't use an extension as it could heat up and result in a fire.
Don't place heaters in doorways where they may pose a tripping hazard
Place heaters on flat surfaces and never on top of cabinets, furniture, carpets as they may topple over.
When space heaters are not in use, unplug them and carefully store them somewhere safe
Do not bring liquids and drinks close to the heater; it can be hazardous if water damages it.
In case of emergency!
No matter how much you try to prevent accidents, sometimes they happen. Make sure you take every precaution to limit injuries in case of fire damage emergency and call 911 Restoration of Tahoe. Call us now at (530) 290-3468 for fire damage restoration and fire clean-up. We provide professional help within 45 minutes and are available 24/7 for your emergencies.