Snow Storm in Tahoe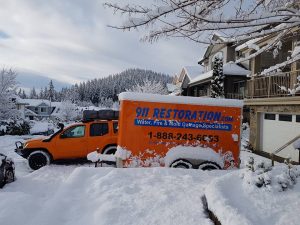 Winter can be a wonderful season. The holidays are here which means great food. Football is in full swing with basketball ramping up. However, there is one thing about winter that can be a large source of trouble for your property if you're not prepared in Tahoe. That thing being snow storms. Snow storms are common throughout the winder and can lead to snow damage if not guarded against properly.
Snow damage can harm your property in a variety of ways. The most obvious way is the impact to your roof. Snow that has accumulated is heavy, and can add undue pressure to your roof that can lead to structural collapse, weakening supports beams, compromised seals, and the destruction of your shingles. In addition, snow can also impact you by compromising your foundation since snow is water, which as it melts needs to travel somewhere.
Because snow will eventually melt due to rising temperatures or the direct attention of the sun, your property is subject to water damage if snow removal is not handled promptly. This means in addition to snow removal, you will also need water damage restoration. As water damage continues to accrue, you run the risk of your property also suffering from a mold infestation.
After a snowstorm, calling the experts at 911 Restoration of Tahoe should be your first call. We'll be there within 45 minutes of your call ready to work. Call us today for your snow removal and water damage restoration.
What is the Risk with a Cold Snap?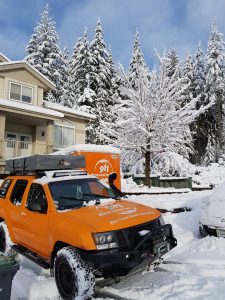 One of the most dangerous things to occur for you and your home in the Tahoe winter is a cold snap. A cold snap is a severe and rapid drop in temperature practically overnight. With temperatures below 20 degrees Fahrenheit, your home can suffer from damage you would not have thought of previously.
Some of the things that can occur includes:
Burst pipes

Frozen pipes

Sewage cleanup

Ice dams

Snowstorm

Winter Water Damage
Your pipes can become frozen and in the case of either extreme cold or a lack of insulation can burst. When the pipes burst, flooding is the result. Flooding is one of the most devastating forms of water damage due to the water spreading far from the point of origin as well as the sheer amount of water. With flooding, water damage restoration is not an option but a mandatory course of action.
In addition to the need for water damage restoration, with burst pipes you also will likely need to do sewage cleanup as most pipes are connected to the plumbing. Sewage is considered raw waste and is not to be touched directly. You will need experts to handle your sewage cleanup.
Where cold snaps become especially dangerous is when it's accompanied by a snowstorm. When a snowstorm is a part of the cold snap, you start having to worry about ice dams. Harder to remove than snow, ice dams can warp your roof by destroying shingles as well as releasing water during the day due to the sun, but refreezing again overnight. This results in long lasting damage for your home. This is the peril of winter water damage.
If you have suffered from a cold snap or need snow removal services call the experts at 911 Restoration of Tahoe. Our crew is specially trained to handle everything from snow removal and water damage restoration to sewage cleanup and commercial restoration.
Managing Your Winter Water Damage
Winter water damage has immediate and long-term impact to your property. Between the water damage that comes from burst pipes and the water damage that occurs due to ice melting and refreezing it can be hard to stay on top of things. That's why we have a few prevention and maintenance tips for you so the edge can be taken off.
Some of the things you can do for your property are:
Clean your gutters:

This helps to prevent ice dams from forming as well as mitigate any potential roof leaks since the water will not be allowed to pool.

Insulate your pipes:

The pipes that are in the colder areas of your home like entrance ways, basements, attics, and any other naturally colder room need to be insulated. This will minimize the the potential for your pipes to burst.

Sealing:

Your property can stay better protected by making sure windows and doors are sealed. The colder everything in your house is, the more risk you take on with your pipes and other potential sources of water damage.

Trimmings:

If you have trees close to the house, trim the branches away so that high winds and snow can't cause those branches to become weapons towards your house. Damaged roof equals automatic emergency restoration needs.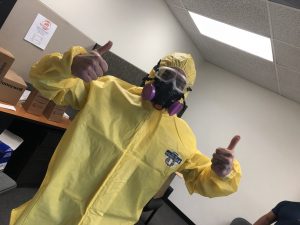 Despite your best efforts, sometimes emergencies will happen. Snowstorms in Tahoe can be mild to severe just like other storms. In addition, cold snaps can also boast temperatures that fall well below 0. When this happens, it's important to stay calm even though your routine is most likely disrupted. We understand that, which is why we make sure we are available 24/7/365 so that when problems happen, we can respond immediately.
We work with our customers every step of the way. While our crew is handling your water damage restoration, snow removal, sewage cleanup, or anything else you can count on our project managers to answer any questions you have. In addition, our team is full of experts when it comes to insurance matters. In the event of property damage, you will want the best so you can relax knowing your claim will be approved.
Our focus is our customers. That's why we make sure that provide solutions for the immediate problem as well long-term solutions so that you don't have to worry about your problem happening again. When we're done you will have your fresh start.
When you notice water damage or need snow removal in Tahoe, call our experts at 911 Restoration to handle your emergency restoration needs.