Water Damage And Mold Removal in Glenbrook, NV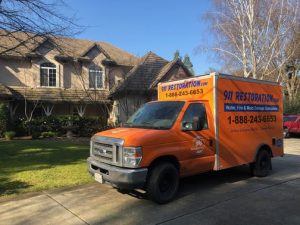 If you need water damage restoration in Glenbrook or the surrounding area, you need a crew that's fast, highly skilled, and compassionate. It may seem like a tall order, but that's exactly what you get with 911 Restoration of Tahoe.
Whether you've had a pipe burst, a washer machine flood, tornado damage, or any other type of water disaster, the water damage restoration technicians at 911 Restoration treat your crisis as if it were their own. They value both home and business owners as important contributors to the community, and you can count on our technicians to treat you like a neighbor. The IICRC-certified water damage restoration and mold remediation professionals hold themselves to the highest standards of the industry, and they champion your peace of mind through clear communication and affordable pricing.
Local Trusted Restoration Company in Glenbrook
Even better, you can reach out to 911 Restoration at literally any time of the day or night, any day of the year, and a flood cleanup crew will be at your door in 45 minutes or less. That's a guarantee. We know that when it comes to water damage, you can't afford to wait… and we'd never ask you to. The water damage restoration workers come prepared to handle any problem with the utmost urgency, including water extraction, boarding up, and structural repairs. They even go the extra mile with a thorough mold inspection and any necessary mold decontamination services.
Worried about the cost of water damage restoration? No problem. Not only will your dedicated flood cleanup and mold remediation crew help keep costs down, but they also demystify the insurance process with a free insurance consultation. If you require a variety of services, it can be difficult to understand what your provider will cover. A friendly staff member reviews your policy with you and clarifies whether your provider is responsible for those roof repair and mold inspection costs. 
You may have been caught unaware by that middle-of-the-night pipe burst, but 911 Restoration of Tahoe has been ready and waiting. Call now for the urgent service you need.
Fast And Affordable Flood Cleanup In Glenbrook
Here's what to expect when you call 911 Restoration for water damage restoration:
The moment you call, expert flood cleanup professionals leap into action. They arrive at your home or business in a maximum of 45 minutes and immediately assess the situation. Based on your unique form of water damage—whether it's a frozen pipe burst, flood, or something else—they devise the best strategy for minimizing damages. They work at top speed to handle emergency services first, including boarding up, roof repair, leak detection, and water or sewage extraction.
Once they have corrected the problem and removed all water from your property, they use heavy-duty fans to dry out the area completely. Even concrete floors absorb moisture, leading to mold contamination and other damages down the road. That's why the step of structural drying is absolutely essential for an effective flood cleanup process.
The water damage restoration techs approach your problem with the goal of giving you a Fresh Start. They don't want to just get rid of moisture; they want to leave you with a home or business that feels brand new. With this in mind, they conduct a mold inspection as well as structural testing to be sure there are no damages or weaknesses to your property. And if they find a problem? Well, your flood cleanup crew has been trained in structural and surface repairs as well. Whether it's drywall, roofing, or floorboards, they've got you covered.
In other words, you're in very capable hands with 911 Restoration of Tahoe. Don't delay. Give us a call now.
Certified Mold Specialists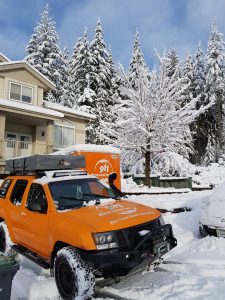 Worried about the potential for black mold following a pipe burst or other water incident?
While you never have to actually worry with 911 Restoration on your side, you are right to be concerned. Black mold is an all-too-common result of water damage. Without immediate mold removal, an infestation is left to release harmful particles into the air. These particles can cause a wide range of health problems when inhaled. For the sake of yourself as well as your family, employees, and pets, you should pursue a mold inspection from certified specialists right away.
The water damage restoration experts at 911 Restoration are also certified in mold remediation. Our restoration experts also provide comprehensive flood cleanup services. The water damage restoration staff follows water cleanup with a mold inspection, careful to check the dark corners where new colonies tend to thrive. Then, if they discover an infestation, they use professional tools to manage mold removal.
Save yourself the headache. Whether you need water damage restoration or mold removal in Glenbrook and beyond, call 911 Restoration of Tahoe to fix the problem for good.
Proudly serving the communities of Glenbrook, Homewood, Meyers, South Lake Tahoe, Stateline, Tahoe, Tahoma, Zephyr Cove, Tahoe City, Kings Beach, Kirkwood, Incline Village, NV, and surrounding areas.