Water Damage And Mold Removal in South Lake Tahoe, NV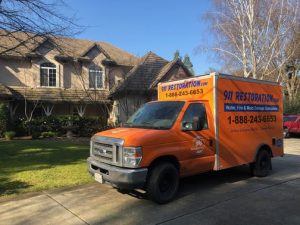 Rotted drywall. A weak ceiling. Contaminated carpet. Black mold growing on your walls.
These are among the many forms of destruction that can be caused by a pipe burst, property flood, sewage backup, or any other water damage incident. And the longer water remains in your home or business, the more likely you are to confront damages like these. Fortunately, 911 Restoration of Tahoe can handle any type of destruction you face, and they act quickly to reduce your need for costly repairs in the first place.
Flood Cleanup in South Lake Tahoe, NV
If you need emergency flood cleanup in South Lake Tahoe or the surrounding area, you can reach 911 Restoration any time of the day or night, even on weekends and holidays. When you reach out, our flood cleanup technicians respond with the greatest urgency, arriving at your home or business in 45 minutes or less, every single time. Thanks to their extensive training, the IICRC-certified water damage experts in South Lake Tahoe is qualified to handle any service, including boarding up, water extraction, sewage removal, structural repairs, mold inspection, and mold decontamination. They provide complete and comprehensive property restoration so you're left with a home or business as clean and strong as the day you moved in.
Call us at (530) 290-3468 and allow us to provide you a free visual inspection.
The crew has been providing water damage restoration and mold damage restoration in South Lake Tahoe for quite a while, and they understand all the stress you're going through as a property owner. As they approach your job, they do so with compassion and communication, doing their best to make this process easy and affordable. If you're confused about your insurance coverage, you can even go to 911 Restoration for a free insurance consultation. A water damage restoration expert will go over your coverage and explain exactly which services are covered by your provider and which expenses fall to you. Whether you require roof repair or mold removal service in South Lake Tahoe, the flood cleanup experts do all they can to keep your costs low.
Urgent Water Damage Restoration In South Lake Tahoe
There is no such thing as a pipe burst or property flood that can wait. Any property water incident is bound to lead to significant damages without prompt attention. You know it, and the dedicated flood cleanup technicians at 911 Restoration know it, too.
They are available to you 24/7/365, so when a pipe bursts in the middle of the night, you don't have to wait until regular business hours to call. Even better, you don't have to sit on your front stoop waiting anxiously for help to come. The flood cleanup crew is guaranteed to arrive in 45 minutes or less. Call us at (530) 290-3468 and see how we can help you.
And what do they do when they get there?
Whatever you need. The water damage restoration technicians are highly trained in everything from emergency boarding up and roof repair to water extraction and sanitation following sewage removal. If you have any belongings in harm's way, they even pack those items out and store them safely until the flood cleanup is complete. 
After water cleanup, the team brings in fans to make sure your home or business is bone dry. They look for signs of permanent damage and inspect for mold. Should they discover any long-term threat to your property—be it structural damage, a mold infestation, or anything else—they handle all necessary repairs and mold removal themselves.
In other words, they do everything it takes to fully restore your space… and they do it fast.
If that sounds like what you're looking for, call 911 Restoration of Tahoe today.
Your Trustworthy Mold Restoration Company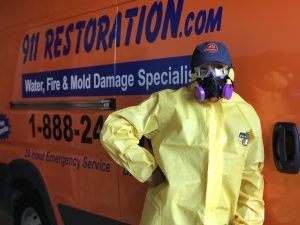 Mold is one of the most insidious dangers of a pipe burst or other form of water damage because it develops quickly and silently. Our flood cleanup crew always performs a mold inspection during the water damage repair process in South Lake Tahoe, because if growth is left to thrive without mold remediation, both you and your property are at risk of long-term damage.
Many property owners rightfully fear the health-threatening effects of black mold. While it's true that mycotoxins from black mold can cause health problems as serious as respiratory and heart issues, this variety is not the only species that requires immediate mold removal for the sake of your safety. Most types of mold are either toxigenic, allergenic, or pathogenic and present varying degrees of risk to human health.
Certified Mold Remediation in South Lake Tahoe, NV
The mold inspection specialists at 911 Restoration are sensitive to the dangers implied by an infestation. You can count on them to conduct a complete mold inspection and communicate clearly about the nature and needs of your infestation. When they handle mold removal, they use the safest techniques for mold remediation, careful to minimize the release of spores and mycotoxins, thus preventing contamination of the air and reducing the likelihood of a repeat infestation.
Perhaps one of the most important aspects of the mold removal process is structural dehumidifying. After mold removal, the workers use professional tools to dry the structure to its core. This step ensures that there is no more stored moisture that can rise to the surface and lead to a repeat infestation.
Call us at (530) 290-3468 and learn how we can help.
The bottom line is: the flood cleanup and mold remediation crew at 911 Restoration take every measure to ensure your property is left in top condition. They don't just get rid of the problem; they provide a Fresh Start.
Call 911 Restoration of Tahoe for immediate relief and real solutions.
Proudly serving the communities of Glenbrook, Homewood, Meyers, South Lake Tahoe, Stateline, Tahoe, Tahoma, Zephyr Cove, Tahoe City, Kings Beach, Kirkwood, Incline Village, NV, and surrounding areas.