Water Damage And Mold Removal in Tahoma, CA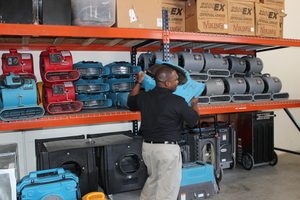 There are few places to live and work that are as beautiful as Tahoma and the surrounding area. But all that beauty cannot protect local property owners from the constant threat of water damage brought on by floods, sewage backups, and pipe bursts in freezing temperatures. Fortunately, there is always a 24/7 emergency solution for home and business owners who need water damage restoration in Tahoma and beyond. That solution is 911 Restoration of Tahoe.
You can reach the flood cleanup experts at 911 Restoration any time of the day or night, any day of the year. Dedicated water damage restoration workers are on-call 24/7, and they are guaranteed to be at your door in 45 minutes or less. 
Every member of the water damage restoration staff has been IICRC certified and extensively trained in flood cleanup, mold inspection, and mold remediation. They are the best of the best, and they oversee every single step of the process, from water extraction to structural repairs to mold removal. They also take responsibility for your peace of mind, communicating openly at all times and even helping you make sense of your insurance coverage. Water damage restoration often involves a variety of services. Will your provider pay for roof repair? Black mold decontamination? Black water cleanup? If you don't know, don't worry. Your dedicated flood cleanup specialists provide a free insurance consultation so you can go into the water damage restoration process with eyes wide open.
The bottom line is that your wellbeing is our first priority. Whether you're dealing with a pipe burst, property flood, or any other type of water disaster, this is no doubt a stressful time. But you don't have to shoulder the burden yourself. Call 911 Restoration of Tahoe and let a crew of certified professionals take every last worry away.
Comprehensive Flood Damage Restoration
You know what's great about 911 Restoration… other than the faster-than-average emergency response times, highly skilled professionals, and compassionate customer care?
The water damage restoration technicians take care of every problem that stands between you and a fully restored property, so you don't have to hire multiple contractors. 
Imagine, for example, that a pipe burst completely flooded your business while you were away for the weekend, causing major damages to your floors and drywall. When you call 911 Restoration, the flood cleanup crew works quickly to pack out and store any items that have not been damaged. They extract water promptly to prevent any additional destruction and dry out the area thoroughly using professional fans. But their work doesn't end there.
Once your space is dry, they tackle all necessary repairs. They replace your rotting drywall and tear out the contaminated carpet. Or, suppose you've had storm or roof damage. They take care of those damages as well. They replace every compromised material so you're left with a property that's even stronger and more beautiful than before. Then, they go the extra mile to conduct a comprehensive mold inspection. It only takes 24-48 hours of exposure to a damp surface in order for mold spores to create thriving colonies. And when you've got mold, you've got a significant threat to your health and the integrity of your property. That's why your dedicated water damage restoration workers take the time to find every last colony, careful to conduct extensive mold removal so you can move forward with complete peace of mind.
From the moment you call us to the moment you wave goodbye to your water damage restoration crew, you know you're in good hands. For comprehensive flood cleanup in Tahoma and beyond, contact 911 Restoration of Tahoe today.
Safe And Effective Black Mold Removal In Tahoma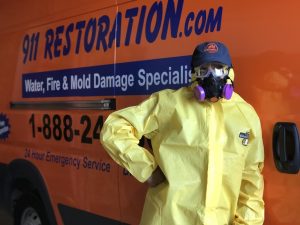 Think you might have black mold or any other dangerous species invading your property? There's no need to panic. While you do want to pursue mold removal right away, you can rest easy knowing that the certified mold remediation technicians at 911 Restoration can solve your problem quickly, safely, and completely.
Black mold is a common term referring to a toxigenic growth that is often greenish-black and slimy in appearance. But because black mold may take other forms and because most mold species are at least allergenic or pathogenic, it is important that you seek out a professional mold inspection the moment you discover growth of any kind in your home or business.
The mold inspection crew at 911 Restoration are able to identify the types of mold in your property and determine the best strategy for safe mold removal. It is in your best interest to leave all mold remediation efforts to certified mold specialists. The danger of black mold comes from the mycotoxins this variety releases into the air. You can then breathe in those mycotoxins, which build up in your system and lead to health issues such as allergies, dizziness, and even heart problems. When you attempt mold removal yourself, you disrupt the colony, forcing the release of mycotoxins into the air and ultimately into your lungs.
Our mold remediation experts know how to manage total mold decontamination so the toxigenic species and its accompanying threat is eliminated from your property completely.
From water damage restoration to mold remediation, the team at 911 Restoration cares first and foremost about keeping you safe and creating a better future for you and your property. Call now for a Fresh Start.
Proudly serving the communities of Glenbrook, Homewood, Meyers, South Lake Tahoe, Stateline, Tahoe, Tahoma, Zephyr Cove, Tahoe City, Kings Beach, Kirkwood, Incline Village, NV, and surrounding areas.