Water Damage And Mold Removal in Zephyr Cove, NV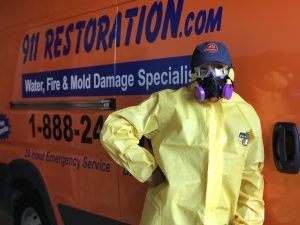 After all the energy and resources you've poured into making your property the refuge that it is, any water incident can feel like a malicious invasion. And for home and business owners in Zephyr Cove, the threat of water damage is always present. Whether it's a pipe burst after freezing temperatures, the effects of a flood, or even a broken sprinkler system, the presence of water can lead to anything from structural damage to widespread mold contamination.
Fortunately, if you need mold remediation or flood cleanup in Zephyr Cove or the surrounding area, your best resource is only one call away.
911 Restoration of Tahoe is open and available 24/7/365 for emergency water damage restoration. Give us a call and count on highly skilled technicians arriving at your door in 45 minutes or less. Every flood cleanup expert on staff understands the urgency of your situation, and they treat your property as if it were their own. 
You can also trust that no matter what your property has been through—whether it's a pipe burst, a sewage backup, or a full-blown natural disaster—this crew is ready to handle it. They've been thoroughly trained in all aspects of water damage restoration, mold inspection, and mold decontamination. They even take care of any necessary property repairs. When you're hit with water damage, 911 Restoration is the only call you need to make. Your dedicated flood cleanup team restores your property to better-than-new condition all on their own.
So what does service like this cost? Well, it's impossible to say without knowing your exact situation, but we can tell you this: the water damage restoration staff does all they can to keep costs down, including offering a free insurance consultation. 911 Restoration of Tahoe works with all types of insurance, and a friendly staff member sits down with you to make sure you understand which aspects of flood cleanup are covered by your provider, from sewage extraction to roof repair to mold remediation. They even file your claim for you and bill your provider directly so you don't have to give it a second thought.
Water damage can be overwhelming, but 911 Restoration is here for you. Call now.
Residential And Commercial Water Damage Restoration In Zephyr Cove
Wondering if 911 Restoration of Tahoe services a property like yours?
The answer is yes.
It doesn't matter if your pipe burst happened in a house or an office space, a condo or a workshop… we've got you covered. The water damage restoration crew is trained to serve commercial and residential properties of all shapes and sizes, and they're prepared to handle any type of damage you've experienced.
Emergency services include everything from roof and storm repair to leak detection and water extraction. If you have any belongings sitting in harm's way, they even pack out those items and store them in a safe place until flood cleanup is complete. Do you have any lasting damages from your water incident? A destroyed roof, perhaps? Ruined drywall? A carpet that cannot be salvaged? Don't worry. No matter what the structure is or what material it's made of, your flood cleanup experts can handle all repairs and make your property feel brand new again. They even conduct a professional mold inspection and any necessary mold removal.
You've put so much into your property, and the crew at 911 Restoration sees that. Their goal is to honor your investment by doing whatever it takes to make your home or business new again. Call 911 Restoration of Tahoe today for the Fresh Start you deserve.
Cleaning Black Mold After Water Damage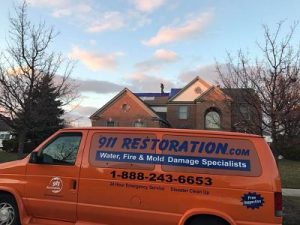 The risk of developing mold is especially high in the wake of a water damage incident. Mold spores are always in the air around you, and when a pipe burst happens, the structures of your property absorb and hold moisture, making every surface a welcome breeding ground for mold. Even with prompt structural drying, it is not always possible to prevent an infestation.
This is why it is important to have a professional mold inspection done after a water incident. And it's especially essential to pursue mold remediation in Zephyr Cove and other local communities where toxigenic varieties like black mold are all too common. 
Toxigenic mold is a variety of fungus that releases harmful mycotoxins into the air. These particles can cause serious health issues when inhaled in excess. This is why mold removal is such an urgent need. The longer mold is left on your property, the greater your chances of developing health problems due to the ongoing exposure.
To make matters worse, mold often thrives in dark, hidden places. Flood cleanup should always include an extensive mold inspection to be sure you don't have black mold in your walls or hidden anywhere else. If you do have an infestation, you can trust that the mold remediation specialists at 911 Restoration will discover it and conduct mold removal using the safest methods possible. Then, they follow mold removal with structural dehumidifying to ensure the dangerous growth does not return.
It's true that there is a lot to worry about when it comes to water damage. Or, rather, there would be a lot to worry about if it weren't for 911 Restoration of Tahoe. Luckily, you don't have to go far to find expert water damage restoration and mold remediation in Zephyr Cove and beyond. All you have to do is call 911 Restoration.
Proudly serving the communities of Glenbrook, Homewood, Meyers, South Lake Tahoe, Stateline, Tahoe, Tahoma, Zephyr Cove, Tahoe City, Kings Beach, Kirkwood, Incline Village, NV, and surrounding areas.