Water Damage And Mold Removal in Stateline, NV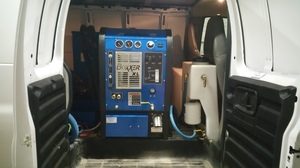 Middle-of-the-night pipe burst? Sewage backup at your shop in the middle of business hours? Washer machine flood just as you're leaving for work?
No matter what type of water damage you're dealing with, one thing is certain: It did not happen on your schedule. Don't worry. 911 Restoration of Tahoe is always there for you, 24 hours a day, every single day of the year. Our IICRC-certified flood cleanup technicians guarantee an arrival time of 45 minutes or less for water damage restoration in Stateline and the surrounding cities. They come fully prepared to handle every single aspect of your pipe burst, flood damage, or whatever it is you're going through. They even repair all damages, conduct a mold inspection, and provide full-service mold decontamination.
Commercial Restoration in Stateline, NV
Businesses and homeowners in Stateline pour so much love and so many resources into their properties. When water strikes, it strikes a devastating blow. The water damage restoration techs at 911 Restoration want to help you get beyond this nightmare as quickly and affordably as possible. They even offer a free insurance consultation to clarify which services your provider will cover. A staff member assists with inventory and loss itemization, and they even file a claim on your behalf to ensure you get all the coverage to which you are entitled, from water extraction to mold inspection and mold remediation expenses.
911 Restoration of Tahoe is licensed, bonded, insured, and staffed with flood cleanup and mold removal professionals who are held to the highest standard of service. These experts have undergone extensive training in water damage restoration and mold remediation. Whatever you need, they can do it… and they'll do it better than anyone.
As bleak as things may look now, your dedicated flood cleanup crew is determined to turn this incident into an opportunity to rebuild, better than ever. Call 911 Restoration of Tahoe for a Fresh Start.
24/7 Emergency Flood Cleanup
Water can do some serious damage in a short period of time. As moisture seeps into the structure of your home or business, your property becomes vulnerable to costly problems such as rotting or weakened drywall. You could wind up with warped floorboards or a carpet permanently contaminated by mold. 
That's the scary news. The good news is that if you need flood cleanup in Stateline, you have the fastest-acting water damage restoration crew right at your fingertips.
The flood cleanup workers at 911 Restoration of Tahoe will be on the scene within 45 minutes of your call. We'll immediately get to work, filling you in at every step of the way.
What To Expect With Water Removal in Stateline, NV
Their first order of business is to stop the invasion of water and remove it from your property as soon as possible. This also means using professional fans to dry out the area completely in the hopes of preventing rot, weakness, and mold growth. 
Once all emergency services are complete, the water damage restoration workers set their sights on rebuilding. They want to turn this nightmare into an opportunity to rebuild, better than ever. This means they don't just get rid of the water, they also deal with any repairs you need as a result of your water disaster. They replace floorboards, repair your roof, remove carpet… anything you need. They inspect for mold and hand mold remediation themselves.
It's okay if your mind is reeling. The water damage restoration technicians at 911 Restoration already have it all figured out for you. All you have to do is call.
IICRC Certified Mold Remediation In Stateline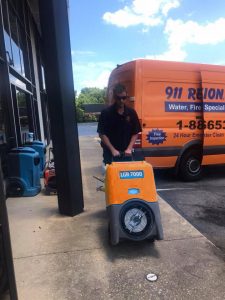 If you've recently had a pipe burst or any other type of water damage, you likely have mold growing in your walls, ceiling, or anywhere else on your property. And if you have mold, you need the assistance of a certified mold removal contractor.
Why get a water damage contractor in Stateline instead of tackling mold remediation yourself?
Well, truly effective mold decontamination is a multi-step process requiring professional knowledge and equipment. First, you need a comprehensive mold inspection to ensure every colony has been found and targeted. Mold reproduces by way of airborne spores, which means an infestation on the east side of your property could spawn a second infestation hidden in the walls on the west side. Certified mold inspection specialists like the experts at 911 Restoration of Tahoe know how to identify the signs of secret infestations, so you can rest assured that when they clean up your mold, they clean up all of it.
Second, certified mold remediation specialists know the safest way to handle mold removal for dangerous varieties such as black mold. They also have the tools needed to dehumidify the structure where mold grew… a step that is absolutely imperative for preventing a repeat problem. The last thing you want is to get trapped in a non-stop cycle of mold development and mold removal.
The bottom line is that 911 Restoration of Tahoe thinks of everything. From flood cleanup to sewage extraction to mold cleaning, consider them your number-one ally in property restoration.
Proudly serving the communities of Glenbrook, Homewood, Meyers, South Lake Tahoe, Stateline, Tahoe, Tahoma, Zephyr Cove, Tahoe City, Kings Beach, Kirkwood, Incline Village, NV, and surrounding areas.